News
We raised $102,118! Thank You!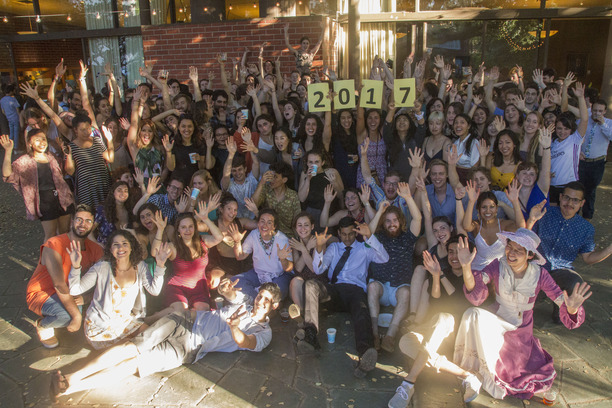 Dear Friends and Alumni of the BSC,
Thank you! In 5 days, 380 of you gave back, helping us meet our Special Give goal. We raised $102,118!
We are so grateful for your support and affirmation that the Berkeley Student Cooperative is an important cause to support, not just a student lifestyle!We announced the campaign results to our newest alumni at BSC Graduation last evening (picture at the bottom of this message).

Thank you for your words of encouragement. We cherish your confidence in our ability to meet our mission -- providing affordable, cooperative housing for students who need it to stay in school!
Special Thanks to the Special Give Volunteer Team. You overcame busy schedules and technology hurdles to help the BSC build relationships with our alumni and friends. You are dear to the BSC: Judy Bertelsen, Nancy Brigham Blattel, John Ehrlich, Patrick Ford, Steve Greenberg, Margie (Greene) Guillory, Nick Hamilton, Jon Lampman, Michelle Nacouzi, Bonnie Prestridge, Elissa Roy, Karen Tkach Tuzman, Michael Tripp, Alfred Twu, and Steve Wood.
Thank you to Special Give Co-Chairs, Al Davenport, Richard Lira, and Tori Partridge, for inspiring teamwork and camaraderie. We are grateful for your counsel.
Finally, Special Thanks to our Challenge Donors, for investing in the future of the BSC and motivating other alumni to give back.
Ted Akulian
Joel Beam  
Victor Bloomfield
Ladd Coates
Narsai David
Al Davenport
John Ehrlich
Steve Greenberg
Lee Halterman
Sara Ishikawa 
Bob Reyes
Omar Shakill
Ruth Spear
Arthur & Sue Walenta
Steve Wood
Anonymous (Cloyne)
Anonymous (Barrington)
Thank you for being part of the BSC!
In Gratitude,
Kevin Ramirez, BSC President
Kim Benson, BSC Executive Director
Madeleine Loh, BSC Development Director